Our cold-process soaps are handmade in France from 100% natural ingredients.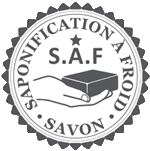 Cold-process soap making is an ancient know-how, a delicate practise which requires a handful of skilfully fine-tuned ingredients and a bundle of time- four weeks of  'drying' as opposed to a couple of hours for industrial soaps.
Saponification ensues from combining vegetable oils with lye and water, without any heating process known to distort ingredients.
Natural colours and essential oils can thus be blended in, preserving all their beneficial properties. We chose to add-on some oils for optimal skin protection, which also provides a 'gentle' touch to our soaps.
This cold-process production is not only soft to the skin, it is also environmentally friendly (with high-quality biodegradable ingredients, and energy-saving production methods). We carefully selected our soap-maker for his expertise and high-standard, from sourcing to production.
Our vilaines filles mauvais garçons© sculpted soaps are tokens of this craftsmanship: each piece is unique in mould and colour, further sealing it with exceptionality.